2019-6-24 月
What's UP JAPAN! 6/23 ONAIR
What's Up Japan 6/26/2019
Good morning, or is it good afternoon or maybe good evening.
This is George Cockle your host on What's Up Japan. Brought to you by "We Base" on Shonan Beach FM 78.9.
Summer is here and they have started to build the entertainment houses on the beach.
They call them Beach Houses, Umi No Ie,but they are actually temporary cafe/restaurant bars on the sand.
All different types on the beach. They all open in July and close at the end of August.
They have them all over over at most of the public beaches some have more than others but I'm sure you can find one to your liking.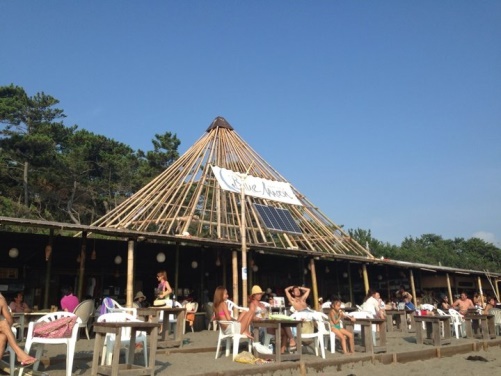 Over here at We Base Kamakura there's great program that you should check out.
Making postcards using Japanese Calligraphy. It will be held on the 26th of June at the We Base Kamakura Lounge.
It cost ¥1,500 plus ¥500 for materials. All you have to do is show up. No prior experience
 necessary. Make you own postcard using Japanese Kanji.
Oh, and one more thing at We Base Kamakura this month.
Beach Yoga with Jenny! This will be held on the 29th of June and the 13th of July at 8am. Check with the front desk for details.
Check out our homepage for contact details.
Over in Kyoto they have a great live event called the WE BASE Kyoto Tanabata Live! It will be held on the sixth of July at We Baser Kyoto.
It will feature one of the most popular bands in the Kansai area, "Born Again Pagans". Check out We Base Kyoto for more details.
Coming up soon is Fuji Rock! 7/26, 7/27, 7/28!
Make your trip to Japan extra Special by checking out this annual event,
almost like a pilgrimage for the young music fans of Japan who save up all their bread to go to this event.