2019-8-26 月
What's UP JAPAN! 8/25 ONAIR
What's Up Japan 2019/08/25
This is the season for nice long hikes in the mountains of Japan.
Japan is 70 percent mountainous. So any place you go, you can always find a nice place to take a little stroll.
I found this site which was very helpful.
https://www.japan-guide.com/e/e2427.html
August 30 (Friday)
We will hold "Gong Meditation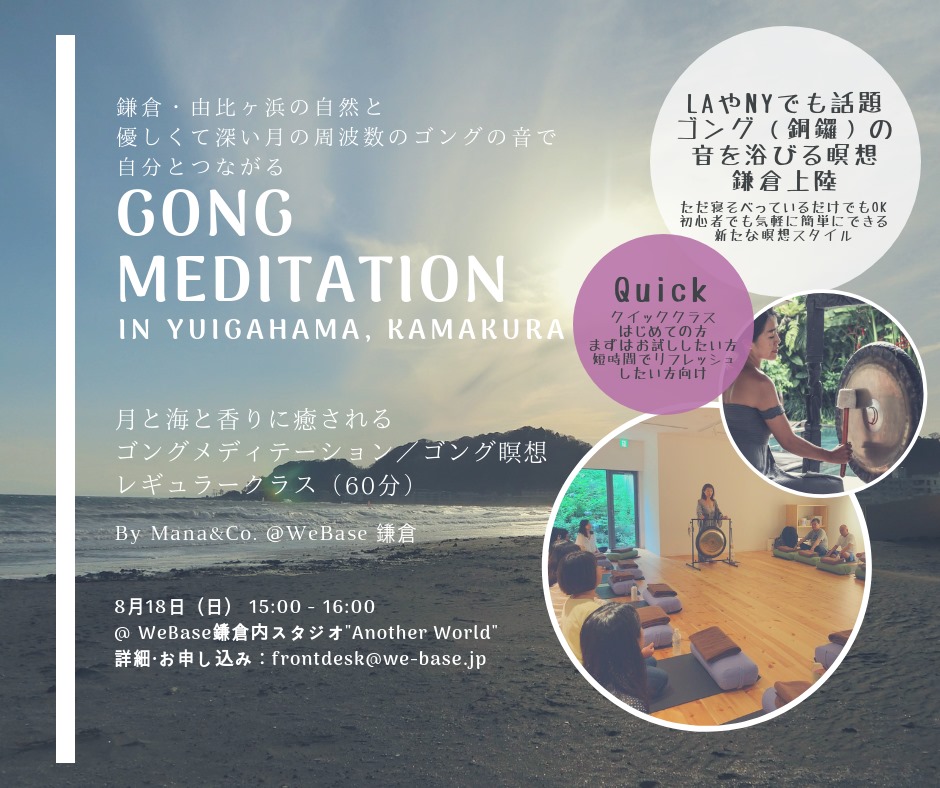 Gong Meditation Quick Class (30 minutes) to be healed by the moon,
the sea and the scent" at the WeBase Kamakura Yoga Studio Another World from 12:00.
A new meditation style using gongs made its first landing in Kamakura.
This is a meditation session at the yoga studio near the beach where you can listen to the sound of the gong and reconnect
with nature and get back to your original connection.
About Gong Meditation: Gong has long been a tool used in rituals and religious events in various countries and cultures.
When trying to find its origin, it is said that it dates back to the time when Butta was born.
The sound of Gong just lies down and leaves the mind and body to the sound, leading us to a deep meditation.
The sound transmitted to the brain sinks the left brain and activates the right brain.
Gong sounds shift brain waves from beta to alpha, theta, and delta, leading to deep, relaxed brain, recovery of brain and body fatigue,
and autonomic nerves even in a short time.
It is also said that there is an effect to arrange.
Some people experience deep meditation experiences through the sound of Gong,
connecting with the subconscious and experiencing past traumas and emotional wounds.
Also, in the world of quantum mechanics, it is thought that if we break down our bodies,
organs and individual cells, we will end up with small small particles. Each of these elementary particles vibrates finely.
It is said that if the frequency (frequency) is disturbed, it will lead to various mental and physical problems,
and the environment is always touching computers and communication lines.
It can be said that the modern lifestyle is in an environment that is prone to such problems.
Our bodies are made up of over 60% moisture. The law is that sound travels faster in the water than in the air.
Similarly, the sound of Gong is said to spread throughout every corner of our body and return the disturbed frequency to the proper frequency.
We believe that after experiencing Gong Meditation, not only the head but also the body feels refreshed.
The style of meditation using Gong has been spreading mainly in Europe and America for the past few years.
There are many followers in Hollywood celebrities, etc., and in Kundalini Yoga,
which is said to be the " most comprehensive and complete yoga " that has exploded in the world over the past few years,
Gong is the central tool for meditation It is used as.
Many people may have an image that requires some difficult technique when it comes to meditation and meditation.
Gong Meditation does not require difficult training or technique. You can just lie down.
Each person has different experiences.
There are people who fall asleep, those who experience such slumber time as if they are awake,
and those who come down with various ideas and inspiration.
The sound of the universe, the sound of Gong, which is said to be the root of our lives.
Regardless of what you experience, the sound of Gong works on our minds and bodies and promotes the necessary actions for each.
Such ease and certain effect may be one of the reasons why this Gong Meditation is popular in the world.
Voices of experienced people: People who participated in Gong Meditation have received the following voices:
・ He feels tired of the head and body. I feel my head and body sensations are clear.
・ Head was refreshed and work efficiency after Gong Meditation was improved.
・ I was really relaxed. As soon as I started listening to Gong, I fell asleep.
・ The day I received Gong Meditation, I was able to take a deep sleep and wake up the next morning.
・ After many experiences, various ideas and inspiration came down during meditation.
・ I came to be able to think objectively about the situation (work or private) where I am currently placed at a distance. [Gong Meditation session details]
● Date and time: August 30 (Friday) 12:00 to 12:30
● Maximum number of people: 20 people
● Location: WeBase Kamakura Yoga Studio Another World (15 minutes on foot from JR Kamakura Station /
● 3 minutes on foot from Enoden Yuigahama Station)
● Eligibility: No matter age or gender Anyone can participate
● Things to bring: Yoga mats are available at the venue. Bring your own clothes or blankets that you can relax to sit or lie down. (Don't worry about difficult yoga poses, so don't worry if you don't mind changing clothes)
● Participation fee: ¥ 2,500 * Special price for WeBase Kamakura only (pay in cash on the day)
● Session details : After a brief introduction and explanation in about 5 minutes, we will have a session to prepare for breathing in 5 minutes, a Gong Meditation session in 15 minutes and a Relaxation in the last 5 minutes. A session using aroma oil will be provided to facilitate deeper relaxation.
* The session is scheduled to start on time, so be sure to arrive before the scheduled start time.
* The number of participants will be held by two or more people.
* Cancellation fee after 20:00 on the previous day will be charged 100%. [Application] WeBase KAMAKURA Email: frontdesk@we-base.jp TEL: 0467-22-1221 Please fill in the following information and apply.
・ Name
・ Telephone number
・ Email address About Practitioner: Gong Meditation is the representative of Gong Master, Mana & Co., who received direct guidance from Don Conreaux, the world's leading gong leader. Mana Ogawa will do it. Profile of Mana Ogawa: http://manaandco.com/founder-mana-ogawa
【Future schedule in WeBase Kamakura (planned)】 Gong Meditation currently holds two sessions every month in WeBase Kamakura.
The schedule for the future is as follows. For prior application, please feel free to contact WeBase Kamakura Front Desk.
<Regular class (60 minutes)>
・ September 15 (Sun) 15: 00-16: 00
・ October 12 (Sat) 15: 00- 16:00
・ November 17 (Sun) 15: 00-16: 00
・ December 15 (Sun) 15: 00-16: 00 <Quick class (30 minutes)>
・ August 31 (Fri) 12 : 00-12: 30
・ September 27 (Friday) 12: 00-12: 30
・ October 25 (Friday) 12: 00-12: 30
・ November 29 (Friday) 12: 00-12: 30 December 27th (Fri) 12: 00-12: 30 Program Planning and Management: Mana & Co. X WeBase Kamakura
Shonan BeachFM 789MHz     『What's UP JAPAN!』Every Sunday 26:00-28:00 On the air
I am waiting for your message.  ⇒ whatsup@beachfm.co.jp
Thank you!