2020-4-24 金
What's UP JAPAN! 4/24 ONAIR
How are you?  It's is still social distancing.
Please stay home as much as you can and be safe.  It will all be over before we know it….
Today we talked about the beaches around Kamakura.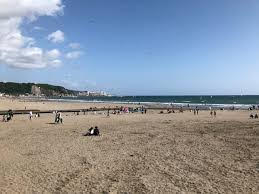 There are basically two main beaches in the city of Kamakura proper.
One is called Yuigahama and the other one is called Zaimokuza.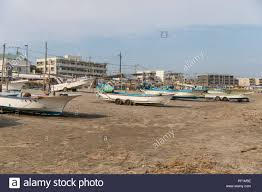 The interesting thing about these two beaches is that they are not just for leisure activities but that they are used by the fishermen too.
Kamakura does not have a port so the fishermen pull their boats out of the water and drag them up the sand.
They used to roll them on logs but I think these days they pull them up with pulleys and wheels.
If you travel a few stations on the Enoden, you will also come across a nice stretch of coastline.
The Enoden travels along the waterfront in this area, the stations along this stretch are called Inamuragasaki, Shichirigahama and
Kamakurakoukoumae.  Here the beaches are reef so you'll find  lot of surfers here, but the water is also very clear.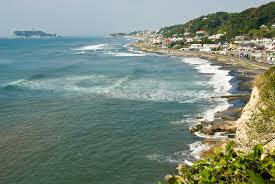 Over in the town of Zushi right down the coast you'll find Zushi Beach, a long sandy beach and beyond that you'll find the rocky beaches of Hayama. Ishiki and Morito. Beautiful!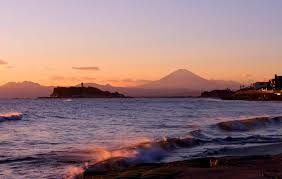 Check them out when you get a chance.
WeBase, travelers seek safe, secure and clean! !
Alcohol disinfectants are also installed at the front desk in Kamakura,
and alcohol can be regularly disinfected in common areas, staff can wear masks, disinfect card keys, and disinfect handrails in the hall!
We practice what we noticed by the staff in the form of It seems that JR is also doing some sanitary management
and air exchange, so find a perfect place from Kamakura to Hakata on a vacant Shinkansen and spend a special holiday 🙆‍♀️
WeBase encourages cultural exchange with those communities by promoting the original culture of all Japanese regions and the attractiveness of its communities to the world. We aim to create a real community that continuously makes young peoples' worldwide travel fresh and exciting.