2019-7-16 火
What's UP JAPAN! 7/14 ONAIR
What's Up Japan 7/14/2019
We will send you a special feature the city of Takamatsu in Kagawa Prefecture.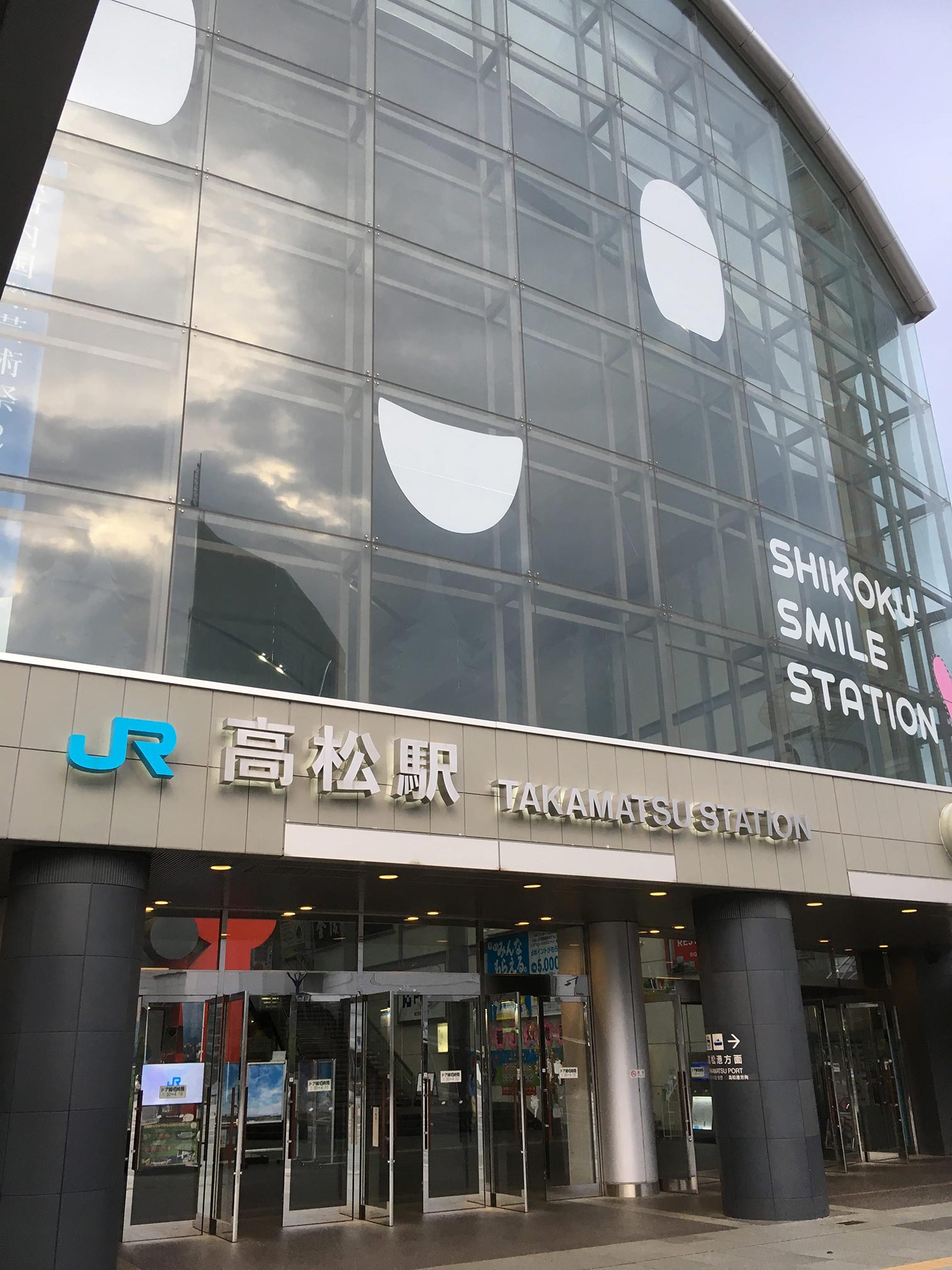 Part 1
Today we are in the city of Takamatsu in Kagawa Prefecture interviewing We Base Takamatsu Manager Ms. Miyamoto.
Q. What is the Setouchi International Art Festival.
The Setouchi International Art Festival is a contemporary art festival held once every three years on 12 islands and 2 ports in the Seto Inland Sea, and takes place during the spring, summer and autumn.
The theme is "restoration of the sea," we aim to restore vitality to the islands of the Seto Inland Sea, where nature in all it's beauty intermingle with man and become a "Sea of ​​Hope" for the world. This is the fourth time it has been held, with 213 works and 35 events from 32 countries and regions.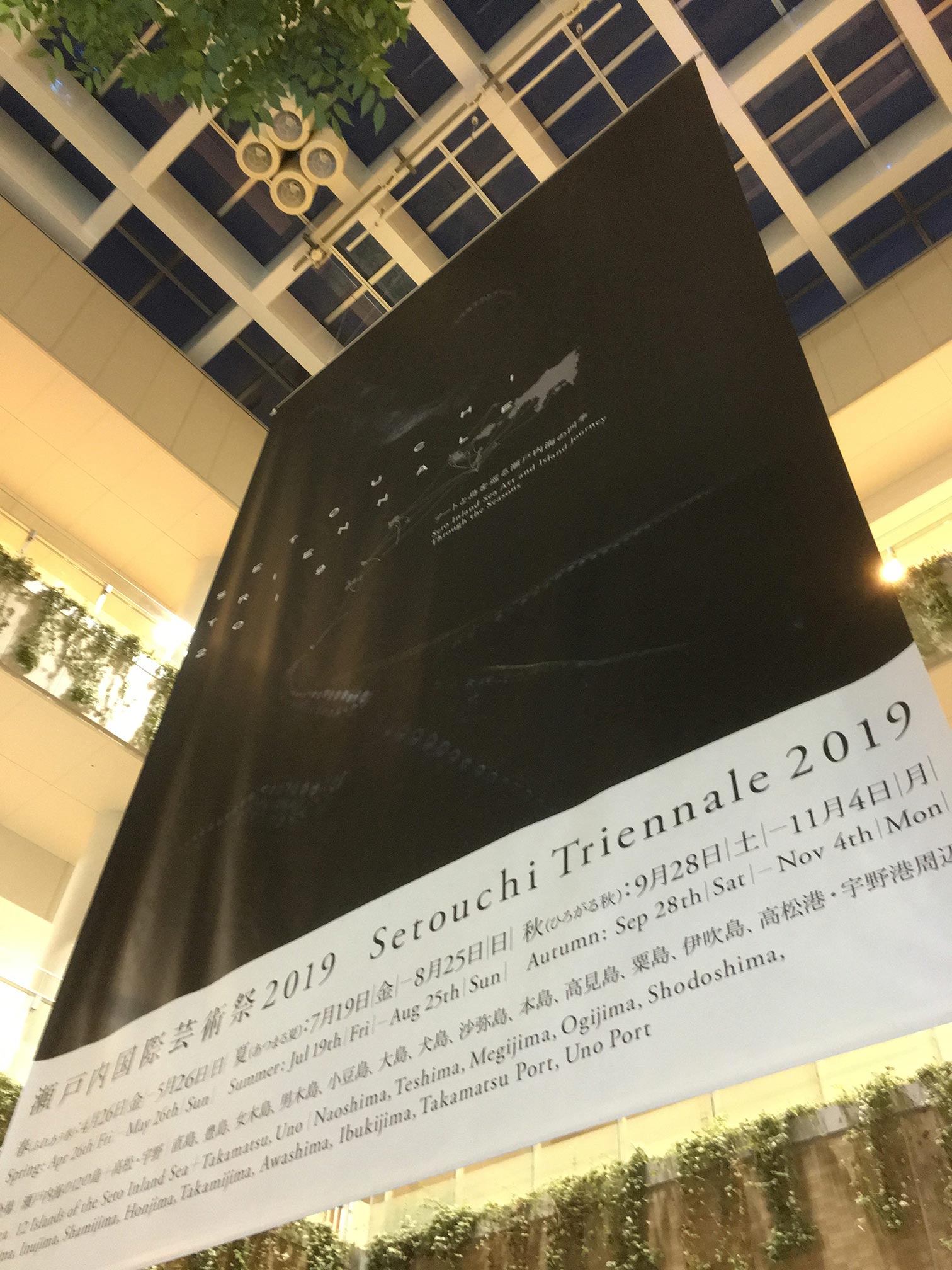 Q. What happens at this festival?
At Takamatsu Marugamecho Shopping District, with heartfelt thanks, we hope to welcome guests that have come from Japan and from abroad to the Setouchi International Art Festival. Local artists including Kagawa University students, will present various art and music events along withfurnishing great food you can enjoy in the shopping district. You can also participate and experience the art in the stamp rally, the photo contest, and various workshops that will be available to participants. During the "festival" period, you can  also enjoy the art of contemporary artist Kenji Yanobe, who's "Ships Cat" will be publicly displayed in various locations within the the shopping district.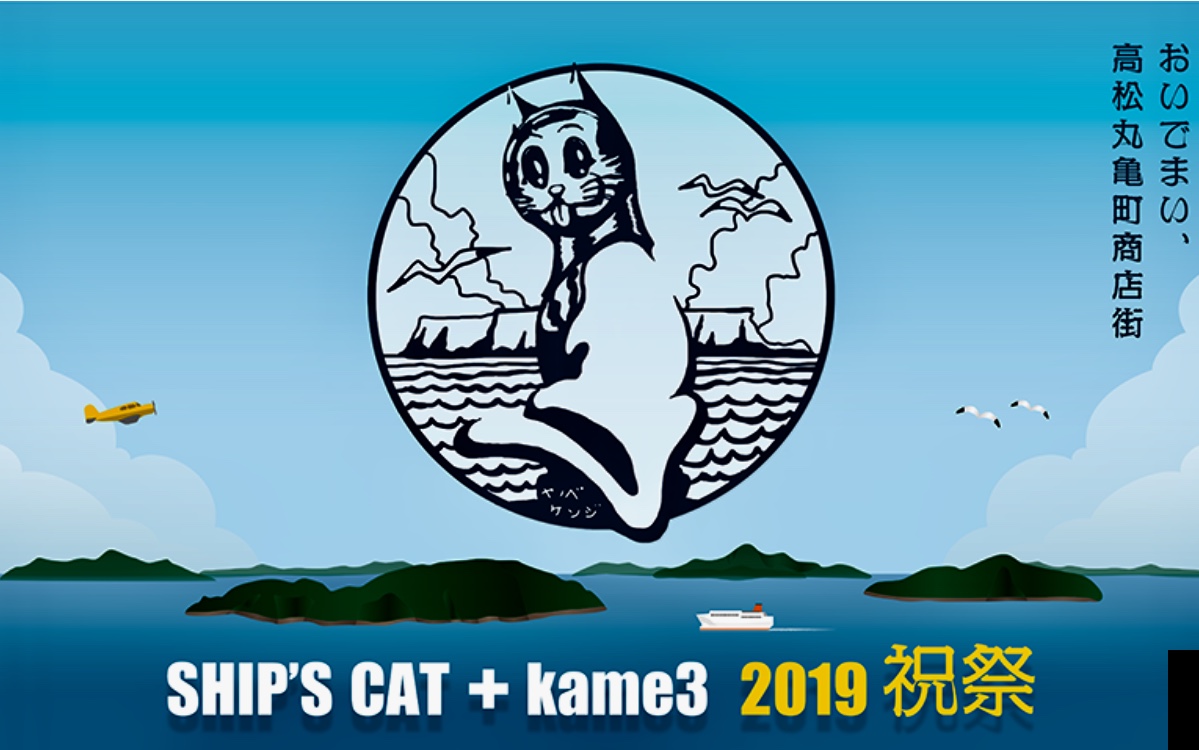 Part 2
Q. Tell me about We Base Ms. Miyamoto?
What kind of hostel is WeBase?
WeBase was born with the idea of using travel as a concept for the creation of new community interaction, which results in the creation of something altogether brand new. To become a "Hub" connecting local cultures and young people and travelers from all over the world. We want to present the regional delights to travelers.
The first We Base, in a business partnership with the Emblem Hostel, opened in Nishiarai, Tokyo in 2015. Next we opened in Kamakura in September 2016, Hakata in July 2017, and Kyoto in October 2018. And Takamatsu opened December of 2018. This year we will be opening a new hostel in Hiroshima.  Therefore the We Base group will have a total of 5 facilities by the end of this year, traversing Japan from Tokyo to Kyushu, to become one of the largest community hostels and hotels with a capacity of over 1000 guests.
Part 3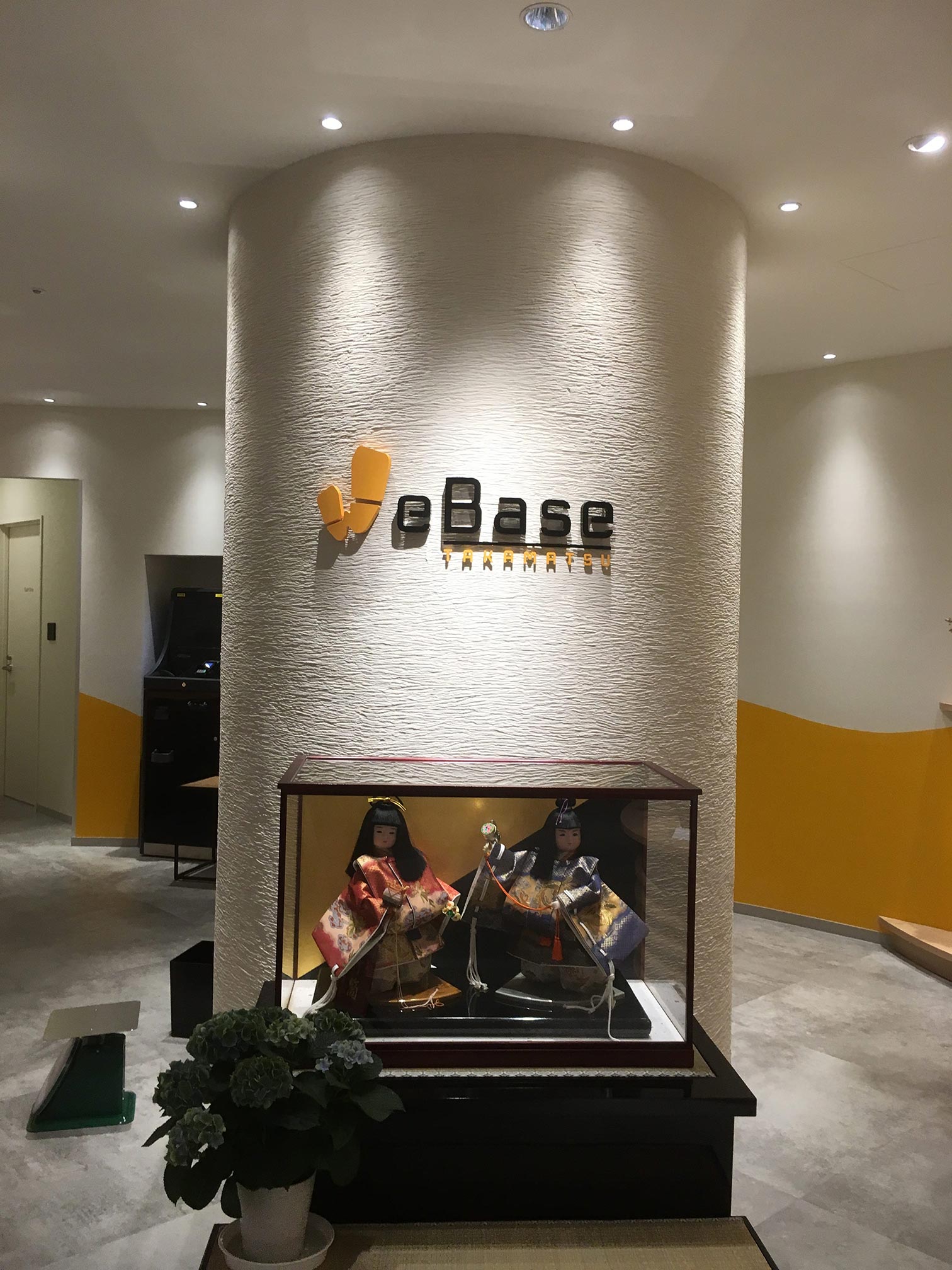 Please tell us the charm of WeBase Takamatsu.
 What kind of customers do you have?
We Base Takamatsu is different than the other We Bases, in addition to being a hostel, we have many small rooms that can be used as a business hotel.
We not only welcome young people, who are the mainstays of hostels, but also welcomes families and other customers.
You can use the hostel as a business hotel but with a friendliness and heart you won't usually find.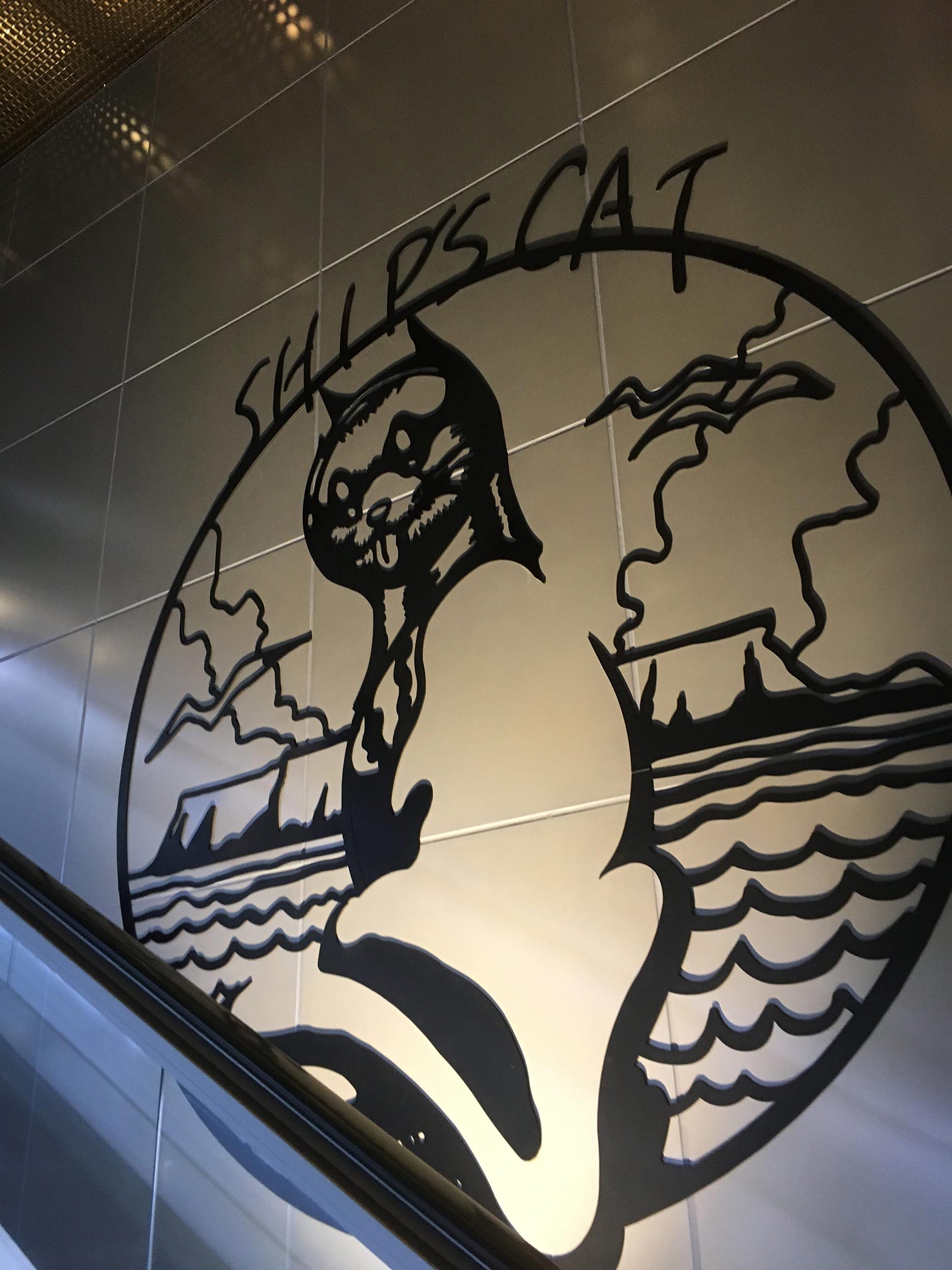 Q. Please give us a message for the listeners.
We at We Base, Takamatsu, want you to come and enjoy Takamatsu. I am actually from outside this region, been here only a year. But I can tell you its a great easy place to live and the food is fantastic! If you have never been here, please come visit Takatamtsu and make WeBase you. Place to stay. The Summer Setouchi Art Festival will be going on so you can enjoy that together with all the other charms of Takamatsu.
Part 4
Kenji Yanobe
What is the Ships's Cat?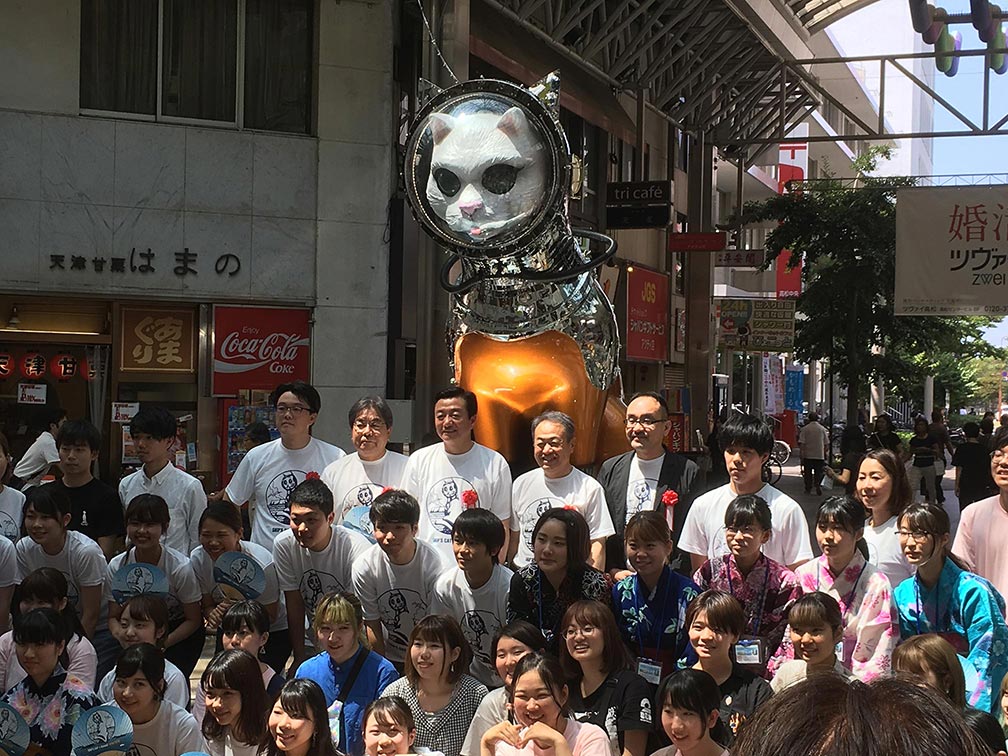 Ships' Cat is a sculpture series I started 2 years ago.  Ships' cat in Japanese is a cat that rides ships, Cats count rats so from the Egyptian era, they have been used to protect the food stores.  Thats why they started to be put ships to protect grain, on the ships. Control Pests and friend and companion for the crew and travel the world and therefore spread throughout the world from Egypt.
Two years ago We Base hostel asked me to put the cat on the ir premises, as a public art to give them emotional support and positivity to travelers
Street Ships Cat
There are two giant cats on the street.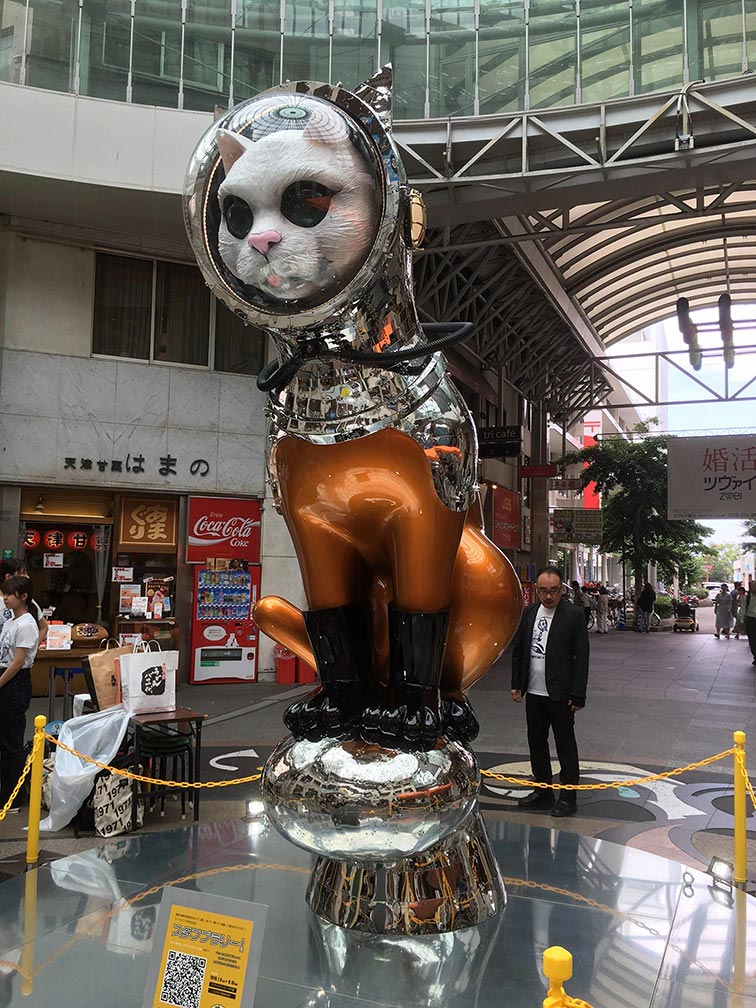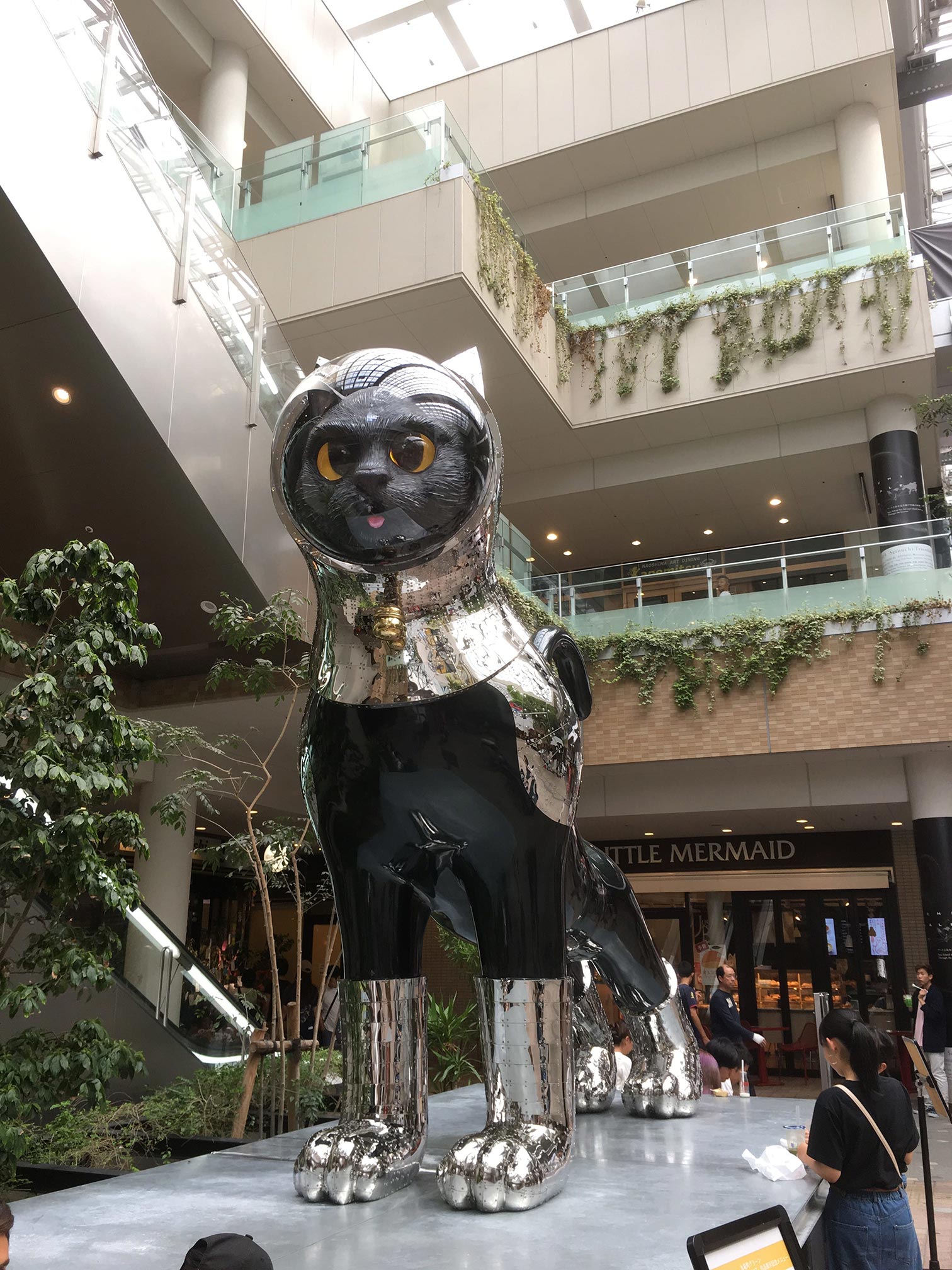 One is a black cat and the other is a diver cat.
And there are many small cats in the show windows of various shops to welcome the guests to our city.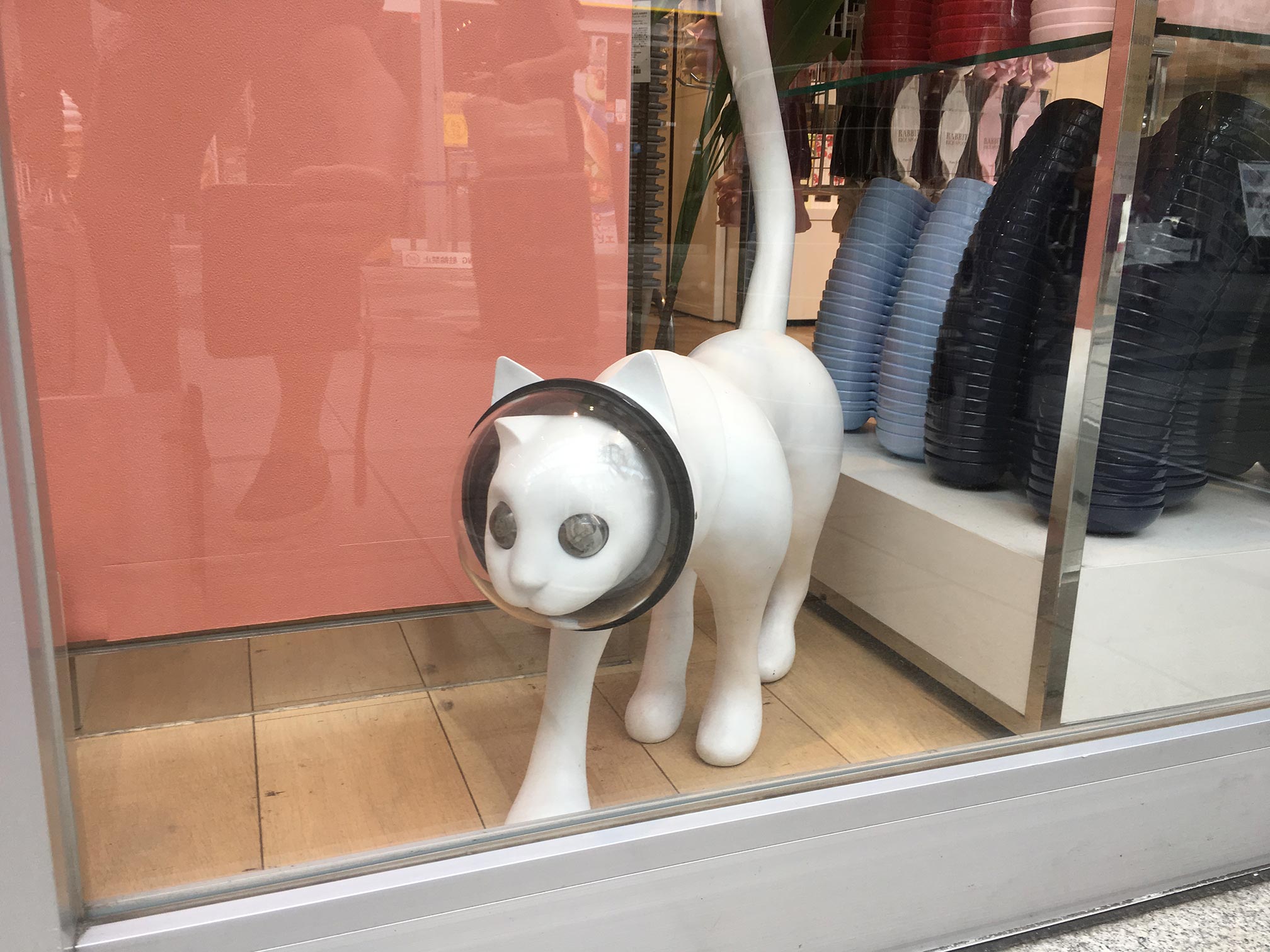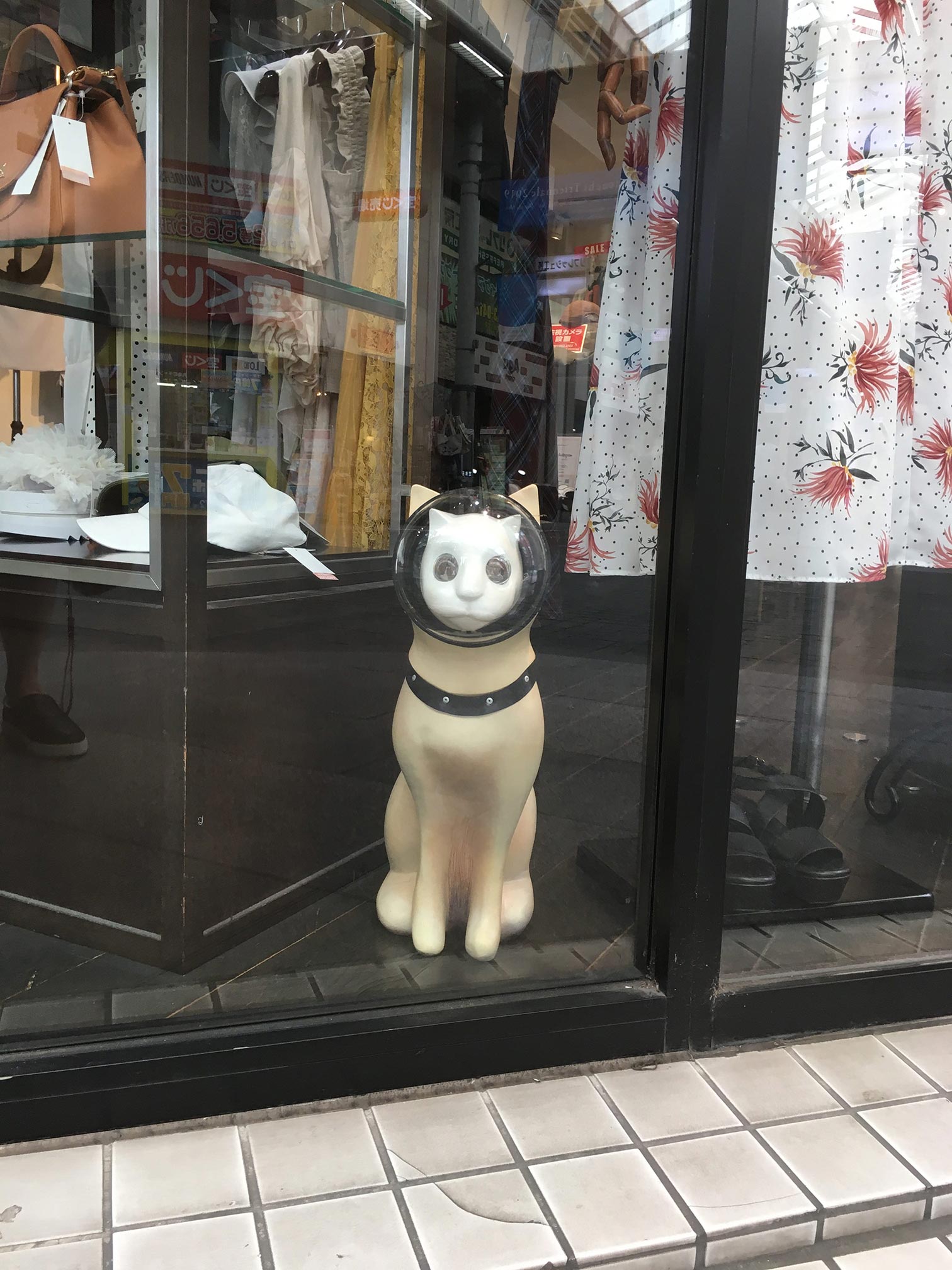 A Message from Kenji
Takamatsu is like a giving mother to the people of the Seto Inland Sea. And like the Ships Cat gives comfort.
Cats protect people and give good vibes.  Come here to the Seto Inland Sea and the good fortune and feeling of satisfaction that permeates the area. The Ships Cat will help spread the happiness and good fortune.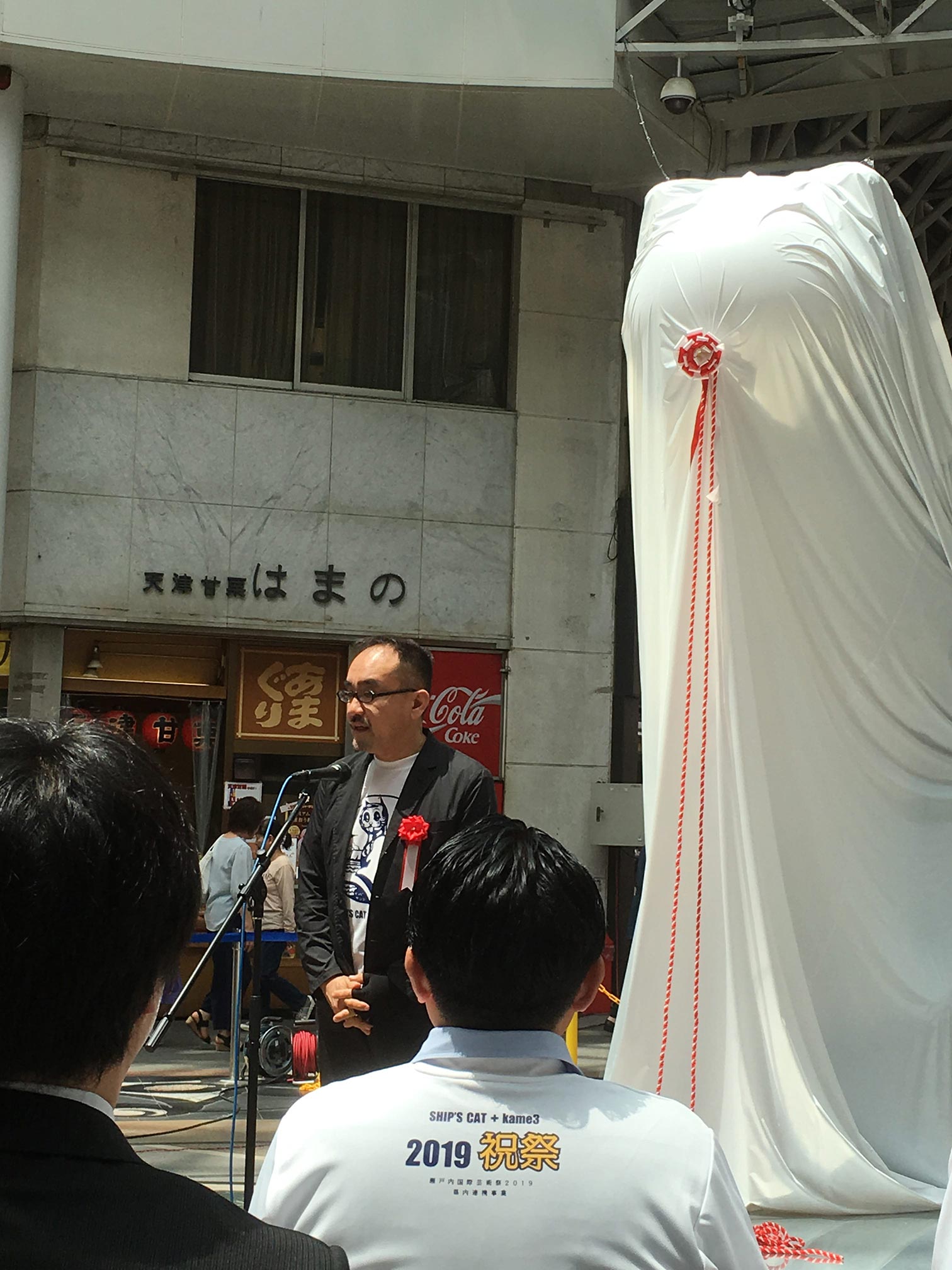 Part 5
Sanuki Sanpaku
Ms. Yasui
In Takamatsu there three local items that this are is known for. It is called the Sanuki Sanpaku.
Sugar and salt, and cotton. 
We want to promote this cotton by making small accessories made out of this cotton.
We are preparing many kinds of workshops for you to enjoy.
Kagawa prefecture is famous for the Kitsurin Park
Or Kagamojyou Castle or  Udon noodles, a shrine called Konpira shrine and other tourist destinations.
These workshops are presented by students and locals. A great thing to participate in. In that way you can take a look and see how the locals live.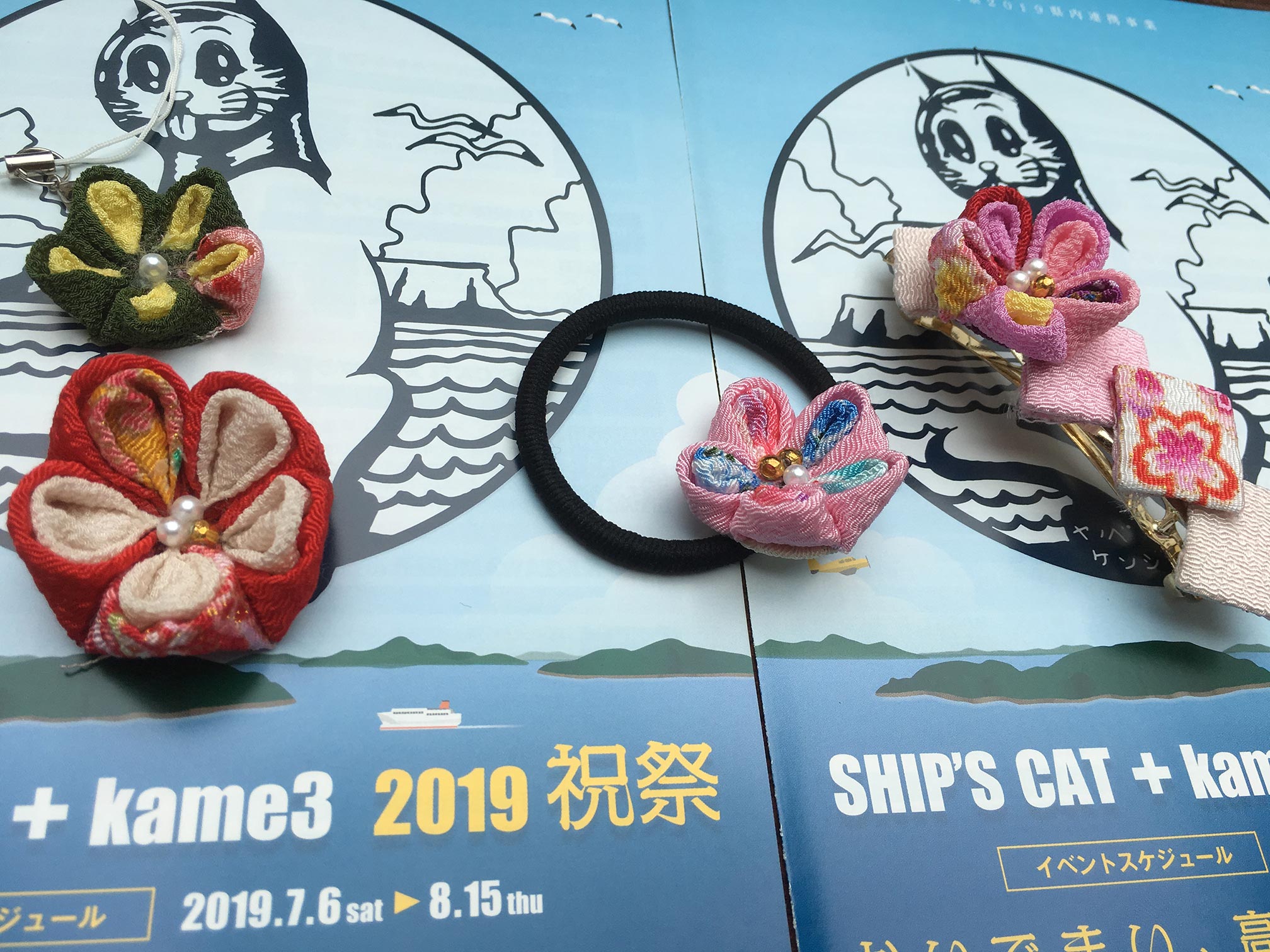 Ms. Aoki
I want to talk about Wa San Bon.
The local sugar comes from sugar cane.
One of the three Sanuki Sanpaku. 
We are putting on workshops using this sugar to make this sweet called Wa San Bon.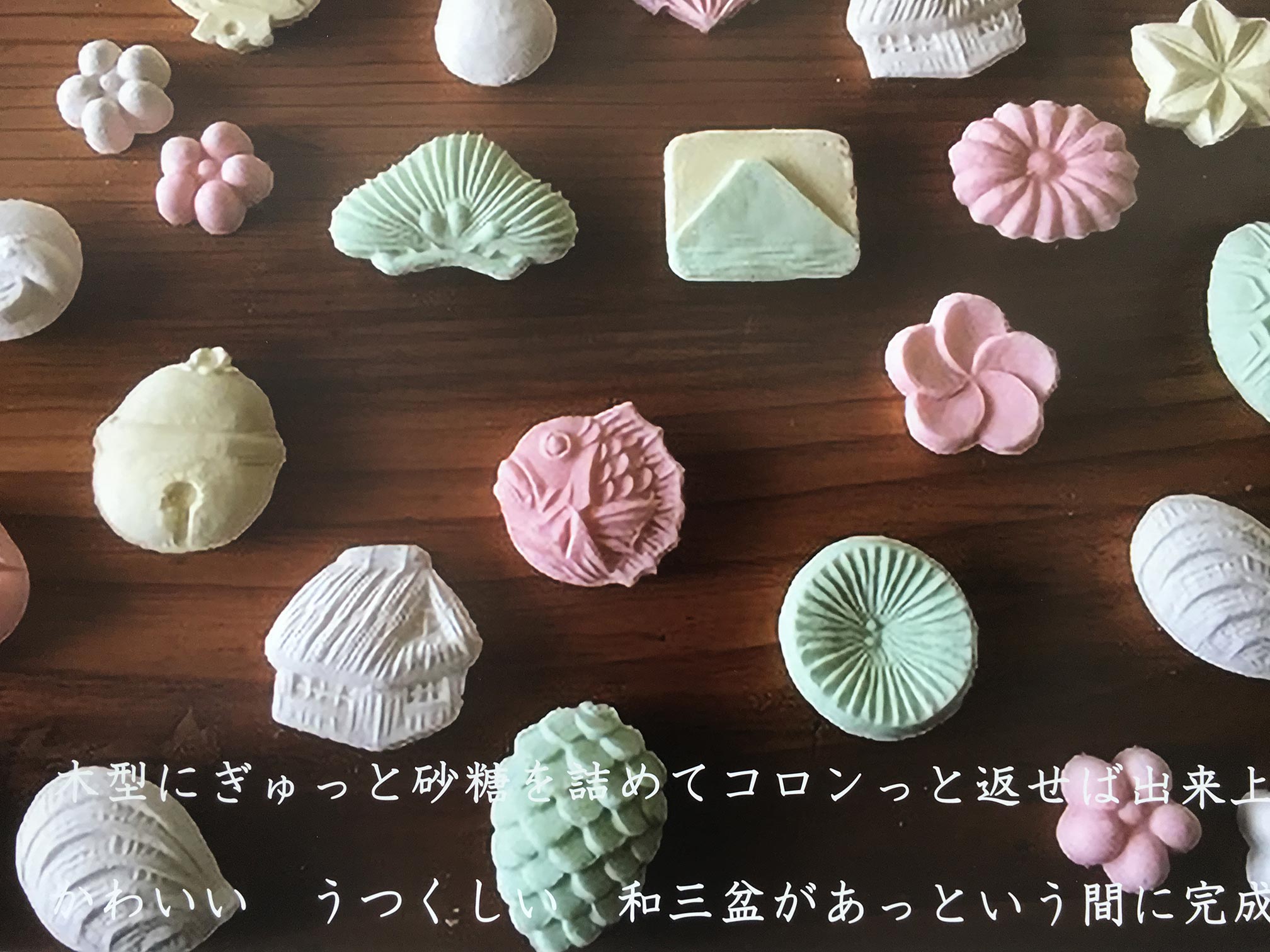 Shonan BeachFM 789MHz     『What's UP JAPAN!』Every Sunday 26:00-28:00 On the air
I am waiting for your message.  ⇒ whatsup@beachfm.co.jp
Thank you!